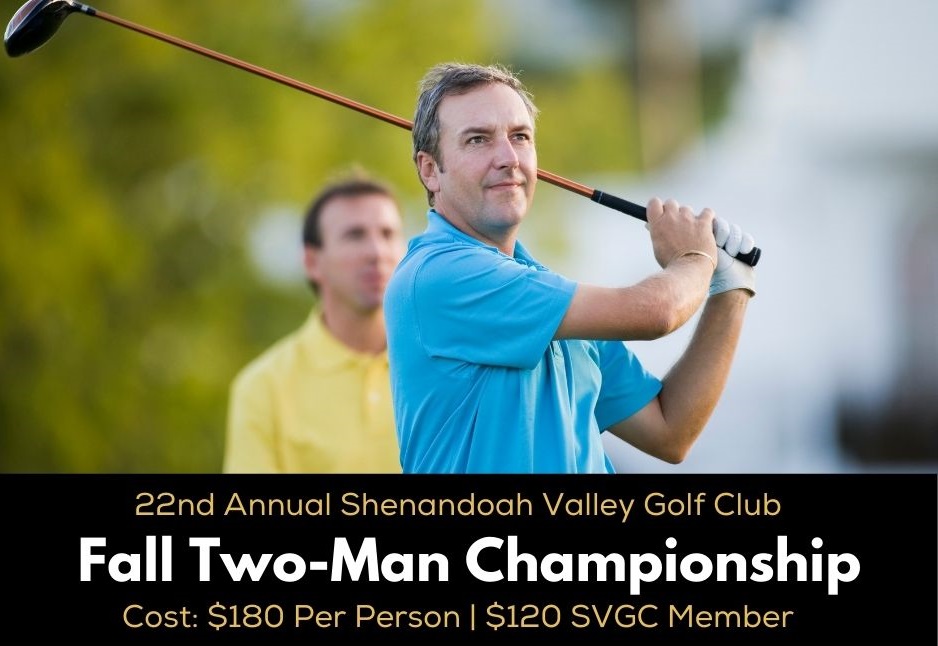 Saturday, October 16 – Sunday, October 17, 2021
Two-man teams. Form your own teams or we will help you find a partner. There will be Skins match every day. Skin money are not included in the entry fee. If no skins are won on either round, skin money will be donated to year-end staff dinner.
27 Holes each day
9 Holes Scramble (Blue Nine)
9 Holes Alternate Shot (Red Nine)
9 Holes Best Ball (White Nine)
Players 65+ will play from the GOLD tees. All others will play the WHITE tees.
Sand Bag Rule will be in effect. Drawing for each flight (8, 9, 10)
All teams will be flighted after completion of round one.
10:00 am Shotgun start both days. Lunch included both days.
Our Fall Two-Man Championship field is FULL
No refunds after close of entries. Team entries not paid in full by Noon, Friday, October 15, 2021 are not eligible to participate.
If you have any questions, please call the golf shop at (540) 636-4653 or (540) 636-2641.